My Gym Needs Me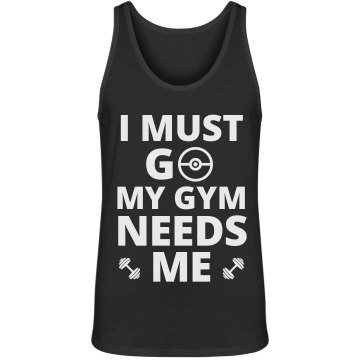 front
back
Design Details
Size Chart
Product Details
| | | | | | | |
| --- | --- | --- | --- | --- | --- | --- |
| | XS | S | M | L | XL | 2XL |
| Body Width: | 16.25 | 18.25 | 20.25 | 22.25 | 24.25 | 26.25 |
| Body Length: | 26 | 27 | 28 | 29 | 30 | 31 |
A customizable warm weather classic from Canvas that's also great for winter weather layering.
4.2 oz, 100% combed ringspun cotton
Soft 30 singles material
Ash is 99/1 cotton/polyester
Athletic Heather is 90/10 cotton/polyester
Triblends are 3.4 oz, 50/25/25 polyester/cotton/rayon blend and 40 singles material
Sizing Notes:
All measurements are provided by garment vendor; vendor tolerance for all measurements is +/-10%
All provided measurements are in inches
Chest is measured 1" below the arm holes
What does 30 and 40 singles mean any way? A higher number means a finer thread resulting in a tighter weave and a softer, thinner shirt. A typical adult unisex t-shirt is 18 singles.
For the fitness-obsessed fan of pocket monsters. I present you the ultimate workout tank top. You've got your cardio in already as you've walked miles to hunt for your favorite pocket monsters, Now it is time to get the iron pumping in the gym.
Custom Text: I MUST | G | MY GYM | NEEDS | ME
Category: